• ALL AGES •
Our 2014 Night of Giving event raised a record amount!
Hospitality House's ninth annual Night of Giving raised an unprecedented $55,000 on Dec. 20 — more than double the typical amount raised, and certainly the highest-grossing fundraiser the homeless shelter has ever put on.
"I want to thank all of you who gave your time, your money, and your heart and soul to help those in need for this most worthy cause." mikail graham
Saturday Dec. 20, 2014

The 9th Annual
A Night of Giving
a community concert series to benefit the homeless

join us for this 9th annual holiday concert series benefitting
Utah's Place
also known as
Hospitality House of Western Nevada County
western Nevada County's community shelter for the homeless
Miners Foundry, 325 Spring St, Nevada City, CA 95959
Nevada County's Community Invited to Ninth Annual Night of Giving:

A Benefit for Hospitality House
A Night of Giving — December 20, 2014
Community Invited to Ninth Annual Night of Giving:
A Benefit for Hospitality House
For the ninth consecutive year, Mikail Graham will present an evening of top local talent to benefit Hospitality House. A Night of Giving, a holiday party for the entire hometown community, will return to its home venue at the Miners Foundry in Nevada City on Saturday, Dec. 20. The event runs from 4:00 to 10:00 on two stages at the Foundry.
The fundraiser will include local performers Beaucoup Chapeaux, Paul Kamm & Eleanore MacDonald, Nory Fussel, Heather MacAdam, poet and storyteller Steve Sanfield, world/jazz fusion trio Tumble, the award-winning Star Dust Cowboys, Mountain Laurel Duo (Kathy Barwick & Peter Siegfried), dance troupe The Movement Alliance, Ishaan Reyna (Best Local Artist 2012 winner), Rod Baggett and the Nevada Union High School Choir, a special performance by Achilles Humperheads, along with dozens of other great performing artists.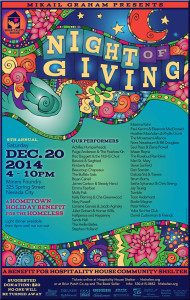 The evening will also feature remarks from people who have benefited from and supported Hospitality House since it opened its doors in 2005 to the neediest in our community. An extraordinary new development this year will be online streaming of the event, complete with live performances and interviews with Hospitality House guests, performing artists, KVMR DJs, and others close to the shelter's work at Utah's Place.
The music begins at 4 p.m. and runs nonstop until 10 p.m. Food will be available for a small donation, and drinks will be served at a no-host bar.
Please click here to have a listen to our interview from December 18, with Beth Ruyak on Capitol Public Radio's INSIGHT program to find ou even more about the event! Many thanks to INSIGHT producer Jen Picard for making this happen.


Through matching funds, those who make donations at Night of Giving beyond buying a ticket will be able to triple their contribution, thanks to generous anonymous friends of Hospitality House. One will match all non-corporate donations up to $200 made at the event, capping at $10,000. The other will match donations of any amount, also capping at $10,000.
"This is the largest fundraiser of the year for Hospitality House," said development director Joanna Robinson. "We depend on the willingness of our community to contribute to our work in this season of gratitude and giving. We've never been disappointed!"
Musician/producer Graham is a third-generation native of Nevada City and a founding broadcaster of KVMR. He has been coordinating musical events since the early 1970s, plays with several local bands, and is the house sound manager for The Center For The Arts.
Suggested donation for advance tickets is $20. Children ages 12 and younger are free.
Purchase on-line here.
BELOW IS THE PERFORMANCE SCHEDULE FOR THE EVENT
(all times are approximate & subject to last minute changes)
NIGHT OF GIVING 2014 PERFORMER SCHEDULE
STONE HALL OSBORN & WOODS HALL
| | |
| --- | --- |
| 4P - Stephen Holland | 5P - The Rosebud Ramblers |
| 4:20 - Toon Vandevorst | 5:20 - Jay Tausig |
| 4:35 - Kelly Fleming & Che Greenwood | 5:40 - Halfpence and Haypenny |
| 4:50 - Heather MacAdam & Phyllis Grant | 5:55 - James Carlson & Steady Hand |
| 5:05 - Bryan Cahall | 6:20 - Nory Fussell, Luke Wilson, Richard Thomas |
| 5:20 - Dakota Sid & Travers | 6:35 - Bodie Wagner |
| 5:40 - Maxima Kahn | 6:50 - Peter Wilson |
| 5:55 - Tumble | 7P – Tsi Akim Tribal Chairman Don Ryberg Blessing |
| 6:15 - Juliet Gobert & Homer Wills | 7:10 - Lorraine Gervais & Jacob Aginsky |
| 6:35 - Kimberly Bass | 7:25 - The Movement Alliance |
| 6:50 - The Heifer Belles | 7:35 - Barwick & Siegfried |
| 7:10 - Dan Scanlan & The Strum Bums | 7:50 - Yuba Rio Hot Club |
| 7:25 - Daniel Zuckerman & Friends | 8:10 - Utah Phillips Award |
| 7:45 - Meri St. Mary | 8:25 - Saul Rayo & Elena Powell |
| 7:55 - Sasha Sylvanaut & Chris Streng | 8:45 - Emma Farabee |
| 8:20 - Paige Anderson & The Fearless Kin | 8:55 - Molly Fisk |
| 8:40 - Rod Baggett & NUHS Choir | 9:10 – Sands Hall |
| 8:55 - Paul Kamm & Eleanore MacDonald | 9:20 - Beaucoup Chapeaux |
| 9:15 - The Buffalo Gals | 9:45 - Achilles Humperheads |
| Hospitality House Guests will be speaking throughout the event. | |

All proceeds from this event will go directly to benefit Hospitality House, the community shelter for local homeless people in Nevada County. This is a great family holiday event with music starting at 4 p.m. Saturday, and running nonstop on two stages until 10 p.m. or whenever we finish.
Food will be available for $5 a plate from 6 p.m. until 7:30 p.m. or as long as the food lasts. All proceeds will benefit Hospitality House. Drinks of all sorts will be offered at a no-host bar.

Please come and connect with others in the community who support good music and this important cause.
Hospitality House is a non-profit organization built on a coalition of faith groups, community organizations, volunteers and local businesspeople. Its mission is to provide a compassionate place of rest, sustenance, and dignity for those who are temporarily without homes. The community shelter began operating year-round in September 2011.
EVENT SPONSORS:
Miners Foundry, The Union, KVMR, KNCO, Foothill Mattress Center Inc, Jeff Leiter, Telestream, Chris' Auto Body & Glass, Briar Patch, Caseywood, Nevada County Board of Realtors, AgNatural/Hydrogarden, Karen and Terry Brown, AquaClean Solutions, Plaza Tire, Mercury Cleaners, Lisa Moon, White Water Naturopathic.
And Kathy Hempel Dotson for this year's wonderful poster!.


TICKET PRICES
$20 suggested donation
No one will be turned away due to lack of funds
All proceeds go to Hospitality House
Homeless Shelter www.hhshelter.org
(530) 271-7144

HOSPITALITY HOUSE COMMUNITY SHELTER
230 South Church Street, Grass Valley, CA 95945

Hospitality House Mikail Graham Appeal from Richard Mentzer on Vimeo.
The 9th Annual "Night Of Giving" A Benefit for Utah's Place/Hospitality House.
$20 suggested donation (but no one will be turned away!)...

Please share this info & help us spread the word for this most worthy community cause!